The 12 Coolest Accessories for Under $100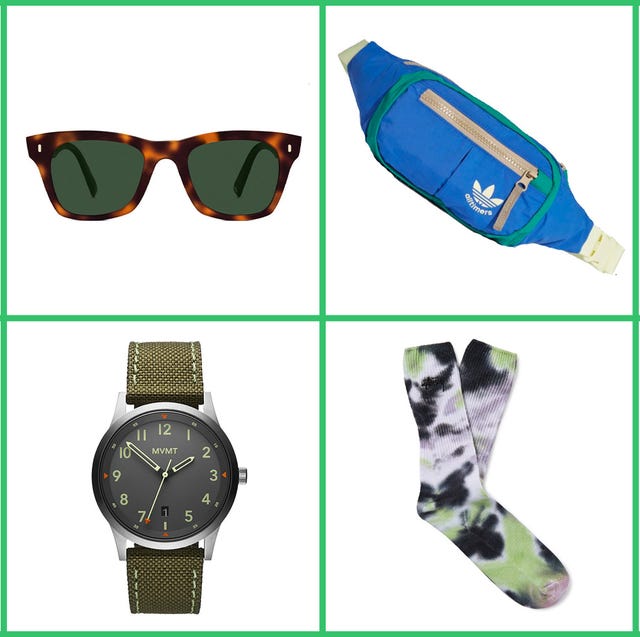 The best accessories can completely transform your look. Whether its sunglasses—think Tom Cruise in Risky Business—socks, or even a bag, they're small items with a big impact. But that doesn't mean they need to have a big price tag. While a little luxury is always nice, there's never a bad time for a new addition to your collection that rings up for less than $100. Here are 12 of our favorite picks.
Advertisement – Continue Reading Below
Keith Haring 'Resist' Pin
For your jacket. Or your bag. Or maybe your hat. Basically anywhere you want to add a little extra personality.
Tie-Dyed Socks
Stüssy
mrporter.com
$20.00
Summer may be over, but that doesn't mean the tie-dye has to go anywhere.
Base Camp Wallet
The North Face
thenorthface.com
$25.00
Your wallet only comes out from time to time. Get a color that'll let it shine for those brief moments.
Watch Hat
Carhartt Work in Progress
nordstrom.com
$28.00
You can't go wrong with a Carhartt WIP watch cap in pretty much any color, but if you're feeling unsure: Black works with everything.
Alltimers Bag
Adidas
adidas.com
$45.00
Call it a fanny pack or a bum bag or a cross-body—whatever you like. This one just so happens to be especially cool in an easygoing, throwback kind of way.
Embroidered Baseball Cap
Pasadena Leisure Club
mrporter.com
$60.00
Dad caps: Not just for dads! This one from Pasadena Leisure Club offers up a great color, a (probably) tongue-in-cheek logo, and a vibe that works especially well on the weekend.
Wool and Silk-Blend Pocket Square
Drake's
mrporter.com
$70.00
Pocket squares—especially the crips, white, Mad Men variety—have seen a bit of a downturn in popularity over the last few years. But the lush prints from Drake's? Those always have a place in our hearts (and your pocket).
Nexus Wrap Bracelet
Miansai
miansai.com
$75.00
The minimalist's choice for a wrist party. Pair it with your watch, or wear it on its own.
Leather Belt
Red Wing
nordstrom.com
$89.00
Red Wing is known for using some of the very best leather in the game. So it's only natural that it signature Hawthorne Muleskinner variety would make its way to a perfectly casual belt.
AT Watch
MVMT
mvmtwatches.com
$95.00
A field watch with a little modernist flair. This will go with pretty much everything in your closet.
Harris Sunglasses
Warby Parker
warbyparker.com
$95.00
Warby Parker's sunglasses still pack one of the best style-to-price ratios in the game. This pair, with its square shape and tortoiseshell frames, is a classic.
The Twill Weekender – Dark Green
everlane
everlane.com
$98.00
Advertisement – Continue Reading Below